The BAFTA YGD Awards took place on Saturday 8 July. 
It was all go on Saturday at BAFTA 195 Piccadilly in London – after opening for entries in January and shortlisting the finalists in June, we finally found out the winners of our Young Game Designers Awards 2017.
Finalists had travelled from far and wide – from Aberdeen to Penzance – to attend the ceremony. As guests arrived into the reception, they could play the shortlisted games and have their photo taken at our wacky, giffy YGD photo booth.  As 2pm came around, our hosts Dev Griffin (BBC Radio 1) and Georgie Barrat (Channel 5's The Gadget Show) took to the stage.
---
Game Concept (10 - 14 years) – Elsie Mae Williams, Torchlighter (read the game concept here)
Our first winner of the day was Elsie: in her game Torchlighter you work for TorchLighters Inc, a company hired by dungeon bosses to prepare their dungeons for adventurers.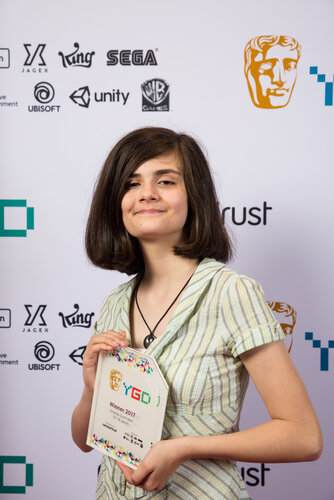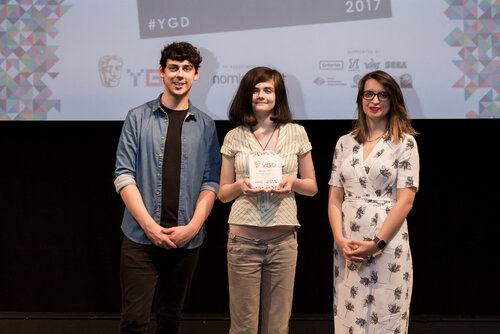 L-R: Elsie with her award, and Elsie with award presenters Matt Richardson and Adrienne Law
Speaking about her win, Elsie said
It's such an honour to be recognised by BAFTA! I could never have imagined when I was sat in my bedroom coming up with my game concept that it would lead to me winning a national award and sharing a stage with presenters from Radio 1 and The Gadget Show. I'm so excited about being mentored by top games developers and really grateful to BAFTA for this amazing opportunity. Winning this award has inspired me to continue coming up with new creative games concepts.
---
Game Concept (15 - 18 years)- Anna Carter, Guzzlesaurus's Culinary Capers (read the game concept here)
Anna's game gets kids cooking & exploring how food gets from farm gate to dinner plate, with the help of Guzzlesarus!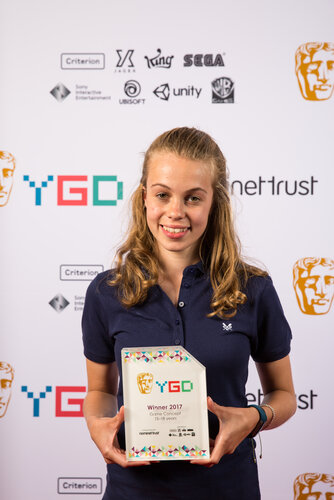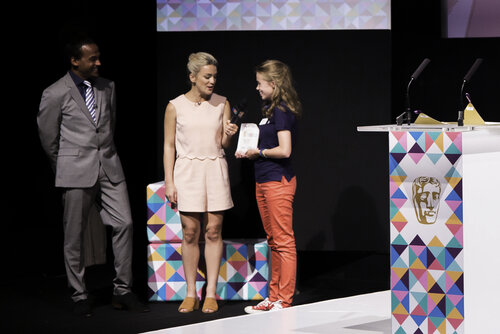 L-R: Anna with her award, and Anna with ceremony presenters Dev Griffin and Georgie Barrat
Anna explained the idea behind her game:
 We hear lots about unhealthy eating and the impact it has, so I wanted to create a game that tackled the issue by instilling healthy eating and a love of cooking in children from a young age in a fun way. I'm really grateful to BAFTA for this once in a lifetime opportunity. I love the creativity involved in game concept creation and winning this award has inspired me to take it further.
---
Game Making Award (10 - 14 years) – Spruce Campbell, CyberPNK (play it here)
In Spruce's game you are sentenced to eternity in a dangerous, corporate neon-glowing labyrinth with alternate realities.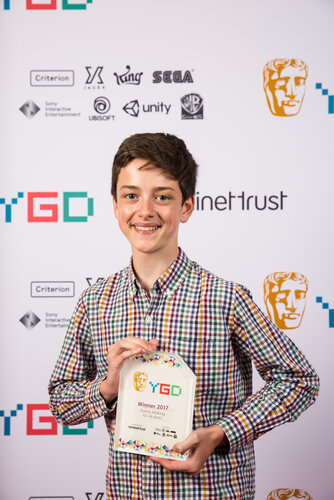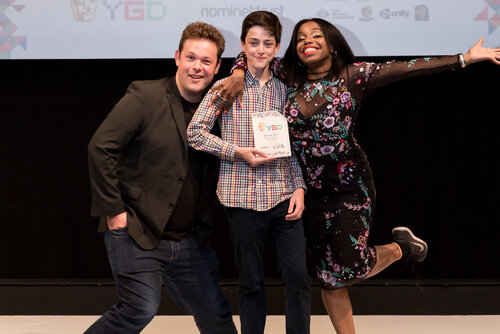 L-R: Spruce with his award, and Spruce with award presenters Mike Bithell and London Hughes
After his win, Spruce said:
Creating a game from scratch was harder than I could have imagined, but when I was standing on the stage at BAFTA all the hours that I put into it were suddenly 100% worth it! Winning this award has inspired me to carry on developing my coding skills so that I can develop increasingly complex and creative games.
---
Game Making Awards (15 - 18 years) – Emily Mitchell, Fractured Minds (play it here)
Emily's game Fractured Minds is an immersive puzzle game about the struggles of living with (often misunderstood) mental health issues.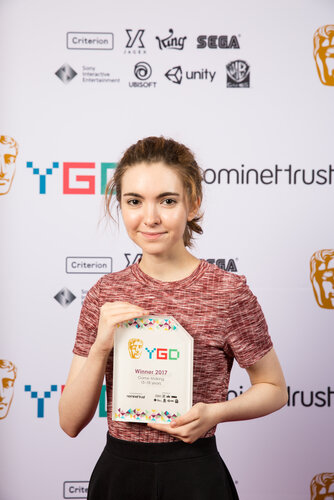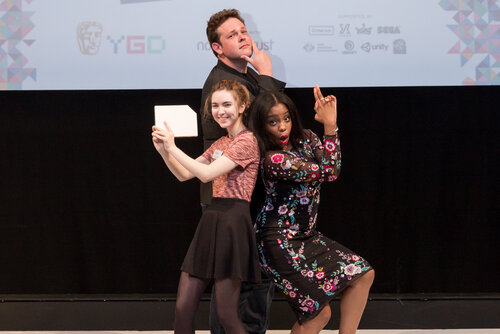 L-R: Emily with her award, and Emily with award presenters Mike Bithell and London Hughes
Speaking about her game, Emily wanted to raise awareness of mental illness:
Many young people suffer with mental health issues and feel isolated as a result. I wanted to create a game that would help young people experience what it is like to live with mental health issues or anxiety so that they can begin to empathise and support each other. Gaming is a great way of communicating important messages in imaginative ways.Winning such a prestigious award has inspired me to carry on making games – it would be great to see more women entering this world as it's such a fast growing and exciting field to be in.
---
YGD Mentor Award – Dave Chilver
The YGD Mentor Award was awarded to Dave Chilver from Lowestoft Sixth Form College for his inspirational work with young game makers. Dave has helped local schools develop their own games curriculum by creating the Lowestoft Young Game Designers.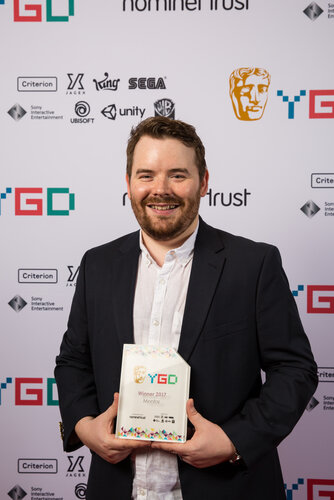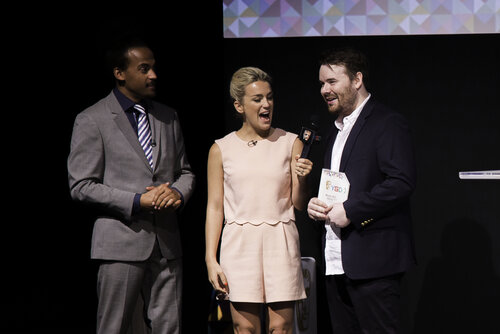 L-R: Dave with his award, and Dave being interviewed onstage with Dev and Georgie
Speaking about his win, Dave said:
The UK is a global leader in the ever-expanding games market, and it's vital that we nurture talent in games creation in our schools, give young people as many opportunities as possible to develop creative, narrative and coding skills and educate young people on the many viable and exciting careers in the industry which are open to them.
---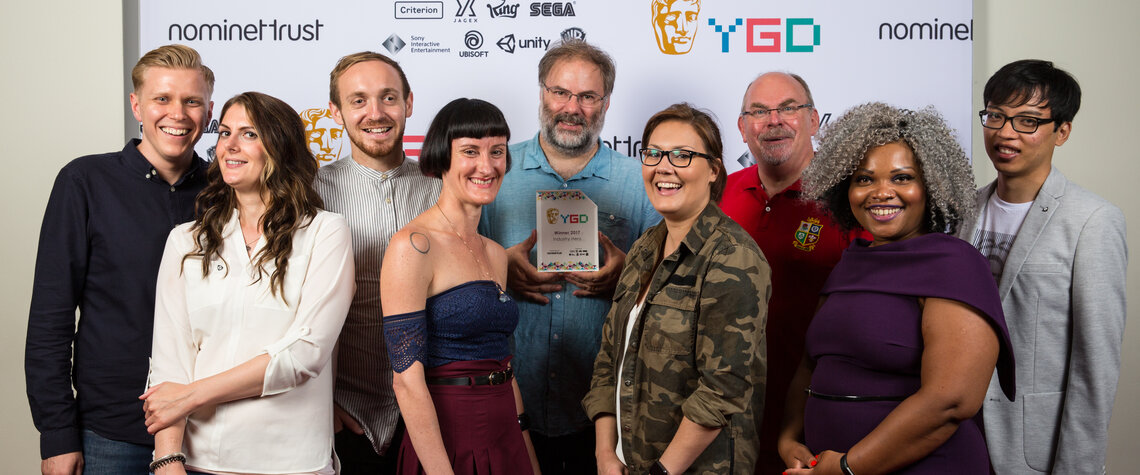 The Unity team with their award
Unity Technologies, creators of Unity, the largest global development platform for creating 2D, 3D, VR and AR games, were named YGD Hero. The game development company was selected by the BAFTA Games Committee for its continued support for young game designers.