This category recognises inspirational individuals involved in championing the education of young game creators in the UK. 
BAFTA gave two Awards in 2021: former BAFTA YGD finalist Harry Petch (Abertay University) and Richard Harris (Head of Design, Raynes Park School). 
The pair were selected by the jury for their outstanding efforts in inspiring young individuals and offering supportive and accessible career pathways into the industry. The jury was chaired by Nick Button-Brown and featured prominent British games industry experts and enthusiasts, including Julia Hardy and Melissa Phillips. 
Further information on the 2021 Mentor Award winners and finalists can be found below.
Meet the 2021 YGD Mentor winners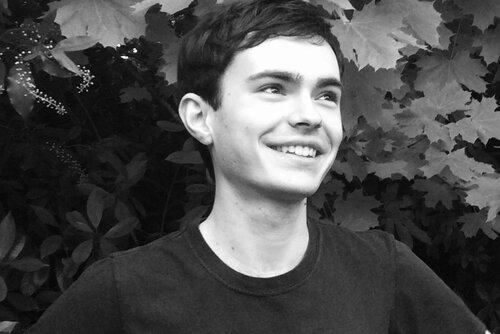 Harry Petch, Abertay University
Harry is currently studying at Abertay University completing his first year Game Design and Production BA Hon. Harry has twice been a finalist for the BAFTA Young Games Designer competition in the Games Making category in 2016 and 2019. Whilst in Sixth Form at Oakwood Park Grammar School, Harry set up two games development clubs for Years 7-8 and Years 9-11, creating a safe space for games designing, proving successful with a total of eight students becoming finalists for Games Making and Concept awards through BAFTA YGD. Constantly working on his craft, Harry communicates regularly with previous YGD finalists via Discord to share learnings and teachings to help improve his practice and sessions within the school.
---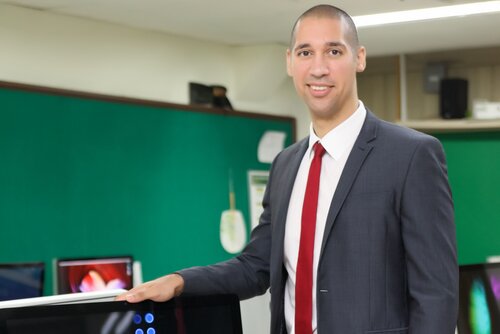 Richard Harris, Head of Design, Raynes Park High School
Richard is Head of Design at Raynes Park High School and believes that as a teacher, it is his role to make learning fun. Initiating illustration workshops for the students, Richard was able to demonstrate how characters are designed for games and uploaded using various online tools and in person techniques to engage his students. Richard led a vast range of STEM clubs and introduced game design into the main curriculum, where he curated a retro Gameboy exhibition to demonstrate that simple games can make a significant impact and, in turn, empowered his students to create a diverse selection of games. Richard has established connections with businesses such as Apple and the National Video Game Museum creating opportunities for learning and future work placements.
---
Meet the 2021 YGD Mentor finalists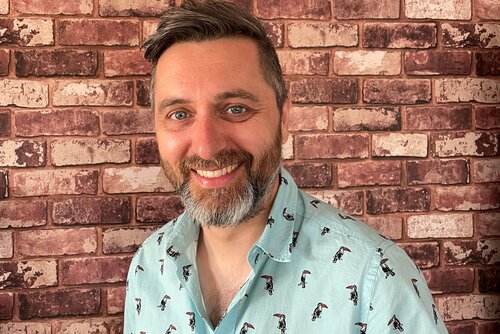 Dan Clark, MindJam
Dan created MindJam; a service which provides online help for children suffering with their mental health through gaming and game design, providing an outlet to talk through problems and anxieties, learn new skills and practice positivity. Activities such as gaming, coding, game creation, digital art and music are proven stress relievers and help the students develop confidence. As a teacher for 20 years, Dan has experience working with children and specialises in supporting children with ASD, ADHD, Trauma, PDA, anxiety, stress and social issues. Dan works all over the country with schools, councils, and mental health services and is part of Autism Champions acting as Emotional Support and Gaming Consultant. He has connected with industry giants such as Media Molecule to inspire his students, and promote the use of Dreams and other game creation platforms within schools.
---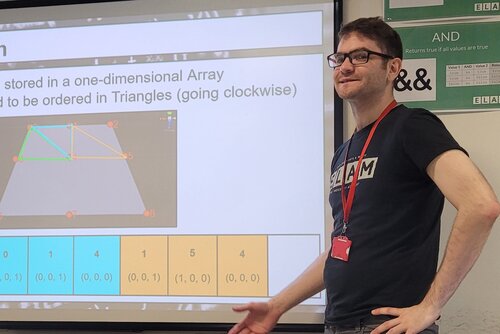 Gregor Manby, East London Arts and Music
Gregor is a teacher at East London Arts and Music teaching Game Design and Development enabling Sixth Form students to achieve Level 3 Extended Diploma's awarded by University of Arts London. He champions respect, teamwork and collaboration in his practice, championing the introduction of underrepresented demographics to gaming and a future in the industry, particularly women whom he feels are not as represented in the field of games designing and creation. Gregor is also an advocate for promoting cross subject collaborations with Music and Film & TV students. Gregor has also externally
supported UKIEs Digital Schoolhouse initiative as well as promoting online learning for other companies
---
Meet the 2019 YGD Mentor winner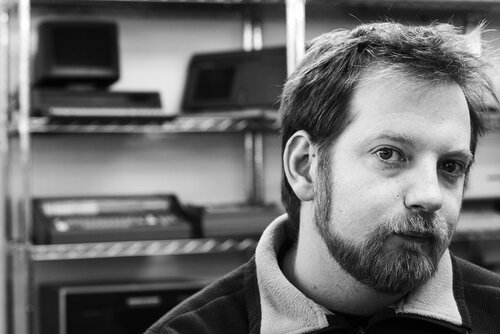 Mr. Matthew Applegate, Creative Computing Club, Suffolk
For as long as I can remember I have been fascinated by what can be achieved through the medium of video games. I have been fortunate to work for some of the biggest tech and games companies in the world on a number of products and I take that experience into the classroom to help the next generation of game designers and programmers.
---
Meet the 2019 YGD Mentor finalists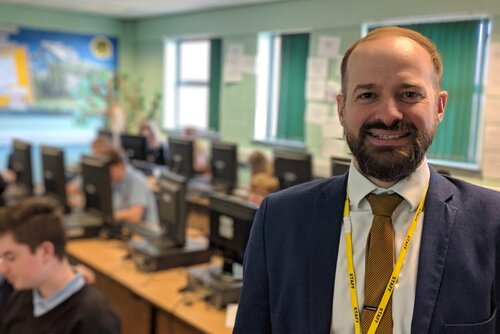 Mr. Matthew Guest, Head of Computing, Summerhill School, Kingswinford, West Midlands
I created a game creator's club based around the BAFTA YGD awards, however as the 2018 deadline was just a few months later, we decided to continue through and enter the 2019 Awards. The number of students in the club grew month by month and following the new year 7 intake in September 2018 the numbers rose to over 50 children – I had to run the club in 2 separate sessions. To truly engage a young person and to give them the most beneficial experience possible, it is essential to get support from the professionals. It was at this point I enlisted the help of a Games Designer from Codemasters, called Gav. We arranged a Skype session together with the students where Gav gave a great insight into his job, how to get a career in the industry and invaluable tips for their YGD entries. There was standing room only for the skype call, it was a great success. We are planning more in the future.
---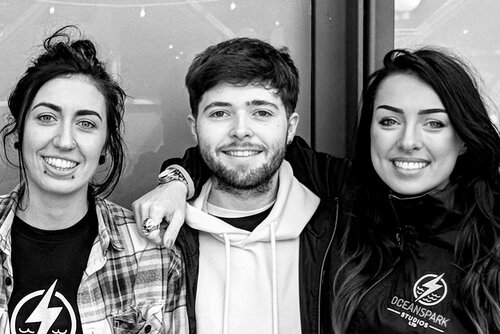 Ocean Spark Studios (Ellie Brown, Helen Andrzejowska & Zach Cundall), Huddersfield
Ocean Spark Studios is a video game development studio that has a strong focus on inspiring the younger generation of games design students. Constantly striving to enlighten not only children but parents too, about the opportunities within the games industry. Throughout the time of the business, the team have found several families from low-income backgrounds who would have no other way of having a chance to get involved in something like this.
---
Previous years' YGD mentors
Adam Syrop – YGD Mentor Award winner 2018
The YGD Mentor Award was presented to Adam Syrop from Impact Gamers, for his dedicated and inspiring work with young people.
I set up Impact Gamers to make a difference in the lives of young people who lacked the opportunities I had growing up.  A chance to go to a safe space, learn about coding, get games published online and make friends along the way.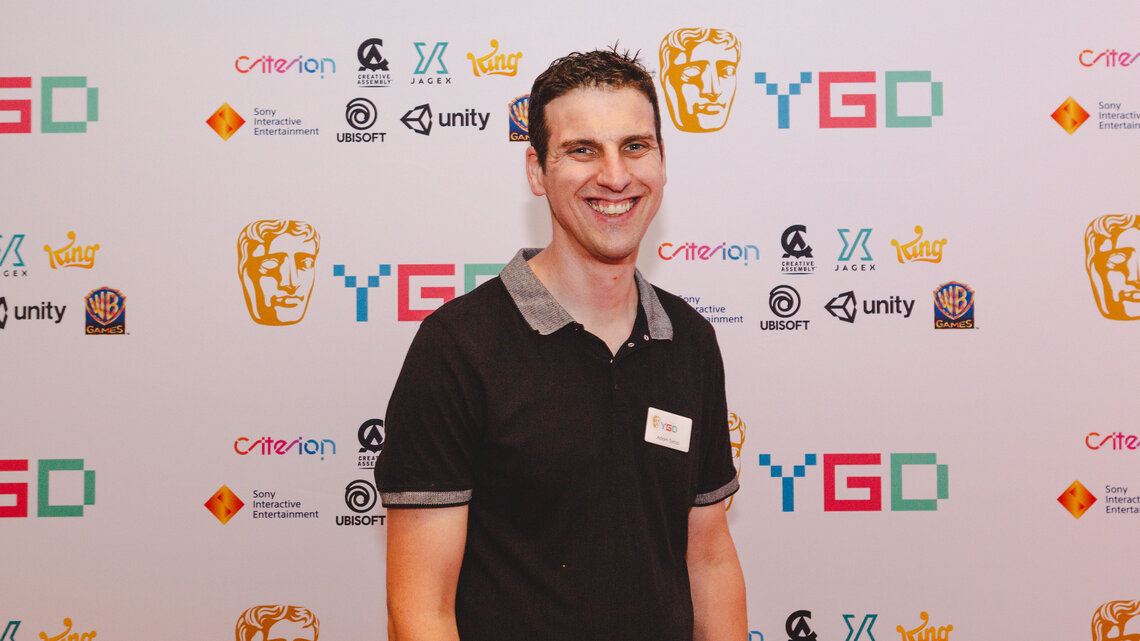 Thanks to Impact Gamers, young people in West Bowling, Bradford, have access to workshops, open arcades, afterschool groups and mentoring. Game making is used as a vehicle not just for developing creative skills, but talking about sensitive issues and building confidence.
---
Dave Chilver - YGD Mentor Award winner 2017
The YGD Mentor Award was awarded to Dave Chilver from Lowestoft Sixth Form College for his inspirational work with young game makers. Dave has helped local schools develop their own games curriculum by creating the Lowestoft Young Game Designers.
The UK is a global leader in the ever-expanding games market, and it's vital that we nurture talent in games creation in our schools, give young people as many opportunities as possible to develop creative, narrative and coding skills and educate young people on the many viable and exciting careers in the industry which are open to them.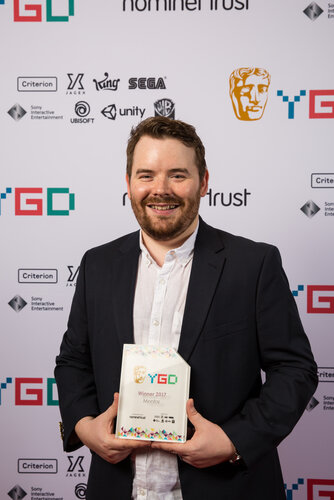 ---
 Michael Warburton - YGD Mentor Award winner 2016
Michael is Head of Games Development at Cambridge Regional College and creator of Rizing Games - the first FE educational commercial games development studio in the country. As part of Rizing Games, Michael's students now run a stall at E3 every June and continue to be the only UK-based college or University to attend and exhibit commercially released games.
Michael said his award win was "pretty unbelievable, with so many amazing people being nominated". Michael's work gives young game developers a chance to gain a qualification, as well as showcasing their work and build that all-important portfolio which will help them to launch a career in the games industry.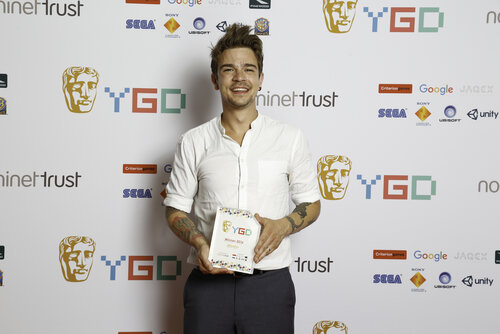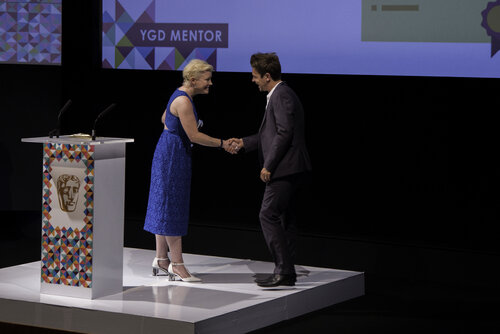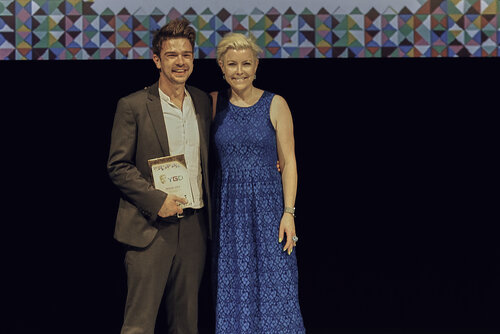 ---
Ray Chambers - YGD Mentor Award winner 2015
Ray is Head of IT at Uppingham Community College in Rutland, East Midlands. He runs a successful extracurricular coding club for his students and also visits local primary schools to introduce younger children to coding. He is also a regular blogger.
Ray was clearly over the moon to win the award: "I was so overwhelmed! It was so unexpected and to be honest, everyone in the category was so deserving! I was very humbled to be there."
The jury who choose Ray were incredibly impressed: "We were heartened by the enthusiasm and innovation demonstrated by all of the nominees. Amongst them Mr Ray Chambers stood out for the way he'd used social media to take his teaching outside the classroom and his commitment to engaging a diverse range of young people in the magic of game design."