The winner of the YGD Mentor Award is Dave Chilver, teacher at Lowestoft Sixth Form College.
Find out more about the YGD Mentor Award winner in 2017, as well as the other nominated finalists.
---
Winner - Dave Chilver
Lowestoft Sixth Form College & Lowestoft Game Designers Club
Lowestoft, Suffolk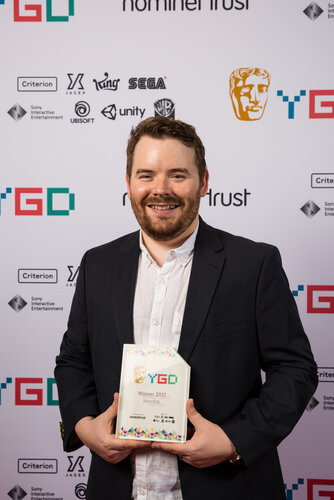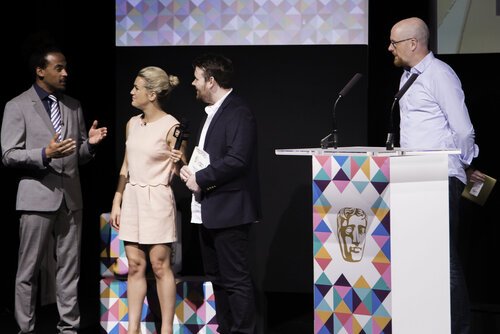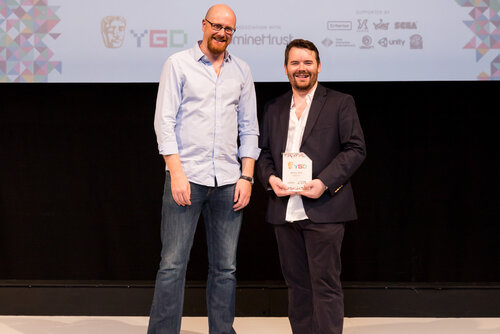 Above: Dave with his award
L-R: Dave with ceremony presenters Dev Griffin and Georgie Barrat, and with award presenter & BAFTA Games Committee Chair Nick Button-Brown.
Speaking about his win, Dave said:
The UK is a global leader in the ever-expanding games market, and it's vital that we nurture talent in games creation in our schools, give young people as many opportunities as possible to develop creative, narrative and coding skills and educate young people on the many viable and exciting careers in the industry which are open to them.
Dave's colleagues also explain why Dave is an outstanding teacher and supporter of young game designers:
"Dave understands the psychology of gameplay which he distils into great lessons. He tells students the best way to design a good game is to design 10 bad ones. By narrowing their focus and designing achievable goals I believe that Dave's students have a better understanding of why games work rather than simply how they're coded." - Colleague
"Dave has helped local schools develop their own Games curriculum by creating the Lowestoft Young Game Designers. This encourages students to enter the BAFTA competition but also to have their work reviewed by the University of Suffolk. The best entries will also be featured at the Norwich Gaming Festival." - Colleague
---
Nominees
David Renton
West College Scotland
Renfrewshire, Scotland
"He is always looking for ways to make sure his students have as many opportunities as possible. Most recently he has been working with students to encourage them to run coding clubs in local schools to teach the children how to make games." - Colleague
"By working with David he has inspired me to push myself at work and outside of work by also working with the students and the clubs and encouraging me with my own clubs that I run as well as my game jams which he has been speaking at." - Colleague
Julia Sutherland
Great Walstead School
Lindfield, West Sussex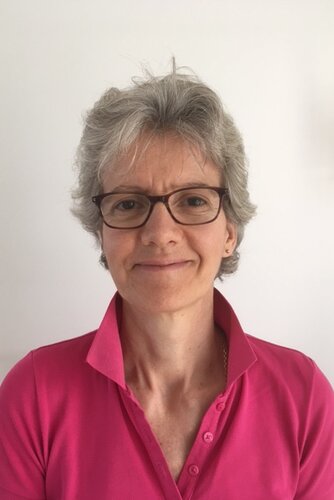 "Julia (or Mrs Sutherland as I knew her) gave me, and is giving hundreds of other students, every opportunity possible during the time we spent and spend at prep school to get into game development. She is wholly passionate about IT and game development, and is always aching to find new ways to get people interested in games and technology." - Student
"She was incredibly passionate about teaching pupils not only to code, but also introducing them to other software which could aid the development of games, such as photo editing software and 3D modelling software. She was also incredibly dedicated and set up a club where students could go to develop games, ranging from games made in Scratch and Microsoft Small Basic, to those made in Unity." - Former student
Matthew Applegate 
Creative Computing Club,
Ipswich, Suffolk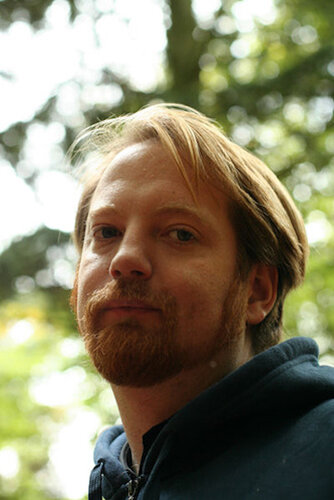 "Matthew has a real rapport with the young people in the group and especially those like my son who have autistic/Aspergers conditions. He has also mentored young designers  through an iGCSE course to help them achieve entry grades for a Games Design Diploma and onwards to degree level." - Parent of student
 "[He] has also helped me get my iGCSE in computer science and deserves to be named YGD Mentor 2017 because he has also helped many other people to achieve their iGCSEs in computer science. He runs gaming marathons to help local charities raise money to help them." - Student
Sarah Bramley-Dymond
The Redmaids' High School for Girls
Bristol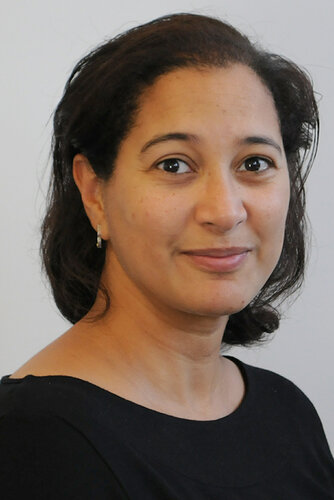 "Mrs B-D has been a huge source of support for not only me, but also the code club that she started at our school. From getting external speakers in to talk and inspire her students, to giving us a taste of what virtual reality can be, to embracing 4 hour train rides to allow us to participate in app and game development competitions, Mrs Bramley Dymond has been with us every step of the way." - Student
"On the school VLE, she has put RSS feeds to tech companies like Wired so that we can stay up-to-date on all of the latest developments, and she organised the annual trip to the Wired Next Generation convention. Also, she has recently started up a school radio station with a team of students so that we can tune in to revision podcasts and tech updates." - Student