BAFTA/Alan Richardson
Find out what happened when our YGD 2016 winners took a trip to Scotland to see their winning games developed.
The YGD Competition doesn't just end with a glitzy award ceremony - there are some awesome prizes to win too! For 2016's winners this included a trip to Abertay University to find out more about how games are made and to see their game ideas produced into a working prototype. 
Winners Daniel Smith, 19, from Newcastle, Nick Gordon, 19, from Derby, Charlie Thurston, 15, from Forest Row in Sussex, and Aysheq Hussain, 13, from Birmingham all travelled up to Dundee in Scotland to see how their games turned out after being selected from more than 1,000 entrants.
The trip began with a visit to Ninja Kiwi where our young designers spoke to staff and were shown around the studio, gaining a valuable insight into how a fully working games studio works.
Gregor White, Head of the School of Arts, Media and Computer Games at Abertay University said: "We were delighted to host this year's BAFTA Young Games Designers and, as always, our team was impressed by their level of skill and creativity.
"Abertay and BAFTA have a long history of collaboration and we wish all of the young designers the best of luck with their games and in their future careers."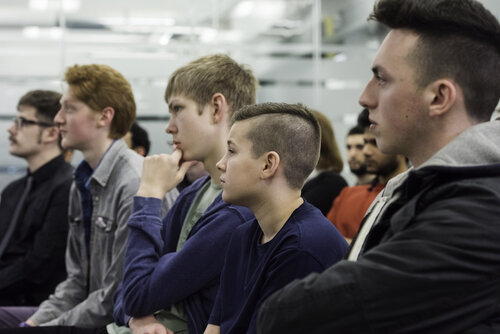 The 2016 Winners watch the Abertay student presentations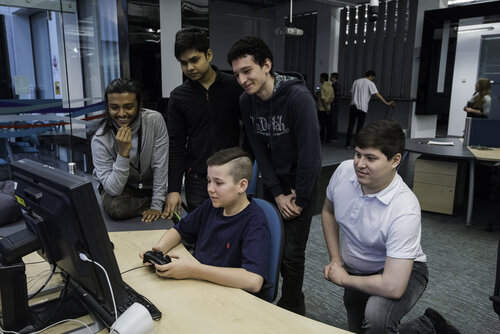 Game Concept 10-14 Years Winner Aysheq Hussain with the team of Abertay students who built the working prototype.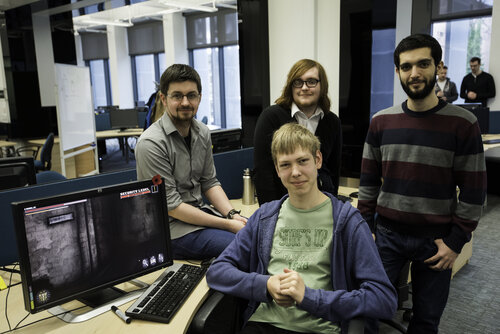 Game Making 10-14 Years Winner Charlie Thurston with his Abertay Team
A new challenge was set this year by Game Concept 15-18 Year Winner, Nic Gordon who came up with the first ever YGD VR game idea! Abertay students were able to create the build using the PlayStation VR Developer kit provided by sponsors, Sony Interactive Entertainment. 
Game Concept 15-18 Years Winner Nic Gordon with his Abertay Team.
The trip was a brilliant opportunity for our winners and a great way of introducing them to how a games studio works as well as valuable insight into the games industry as a whole.
After the teams have finished working on the games, winners then get to keep the working prototype created by the university.
Keep your eyes peeled for some great prize announcements for this year's competition - with partners such as Sega, Warner Bros Games and Unity on board they'll definitely be some amazing prizes coming up!