Based in the era of colonial Britain, but set in space, British ships meet their steampunk counterparts who are aliens from different sectors of the galaxy!
---
The designers:
Adam Mehta, Daniel Lee, & Owen Hickman, aged 18 
Bradford, West Yorkshire
---
The designers' story behind the game:
"Diamonds fund empires but Tea creates them.
"Where's my Tea?' Is based in the era of colonial Britain, landmarking its vast empire. The twist is that the premise of the game resides within space. Therefore this involves British ships coinciding with , a pixel art style will take the form to create a fun and enigmatic art entailed surroundings.
"The game features space battles to defend your cargo from pirates and other traders looking to steal your loot and your contract to deliver the tea. You as a player have the ability to modify your ship and manage your crew by employing new aliens or those from different empires to join the cause. Each playstyle will be unique however the main pivot of the game is to deliver the queen her tea.
"'Winning the game will prove far more difficult than It seems due to the ease of being destroyed by other aliens and pirates and then having to start a new game however, as you progress through the game numerous numbers of times the player then will unlock new ships and crew members to start the new game with creating a game with the ability to offer different playstyles specific to the user."
Platform:
Mobile & Tablet, Desktop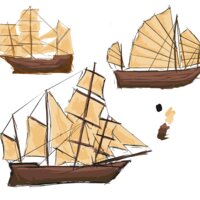 The players:
"The target audience we are wanting to appeal to for this game would be casual strategy PC players. A second key target audience would be mobile users as the game can be accessible through both PC and mobile platforms. This would entice new users having the ability to pick up the game is fairly easily, especially as the game's modules can easily be manipulated allowing ourselves to target wider audiences."