Caleb O'Brien
About
Wicked Zip is a fun, fast paced arcade style zip em'up where zipping has never been so fun!
The aim is to unzip as many zip patterns as possible in a set amount of time. The player is presented with individual zip patterns on their touch screen device; they must swipe in the correct direction to unlock the next zip pattern. When one pattern is unzipped correctly, it tears the screen away, revealing the next zip pattern. As long as the player keeps swiping correctly, zips will unlock new zips, and the player must get though as many zips as possible in one minute. 
A bar counts down when each new zip pattern appears, giving the player a maximum time limit of around 3 seconds to complete each pattern, if this bar depletes, the game ends.  By swiping incorrectly, or in the wrong direction, the zipper resets. There are 3 difficulties to select from in Wicked Zip, the difficulty increases by presenting more complex patterns to the player.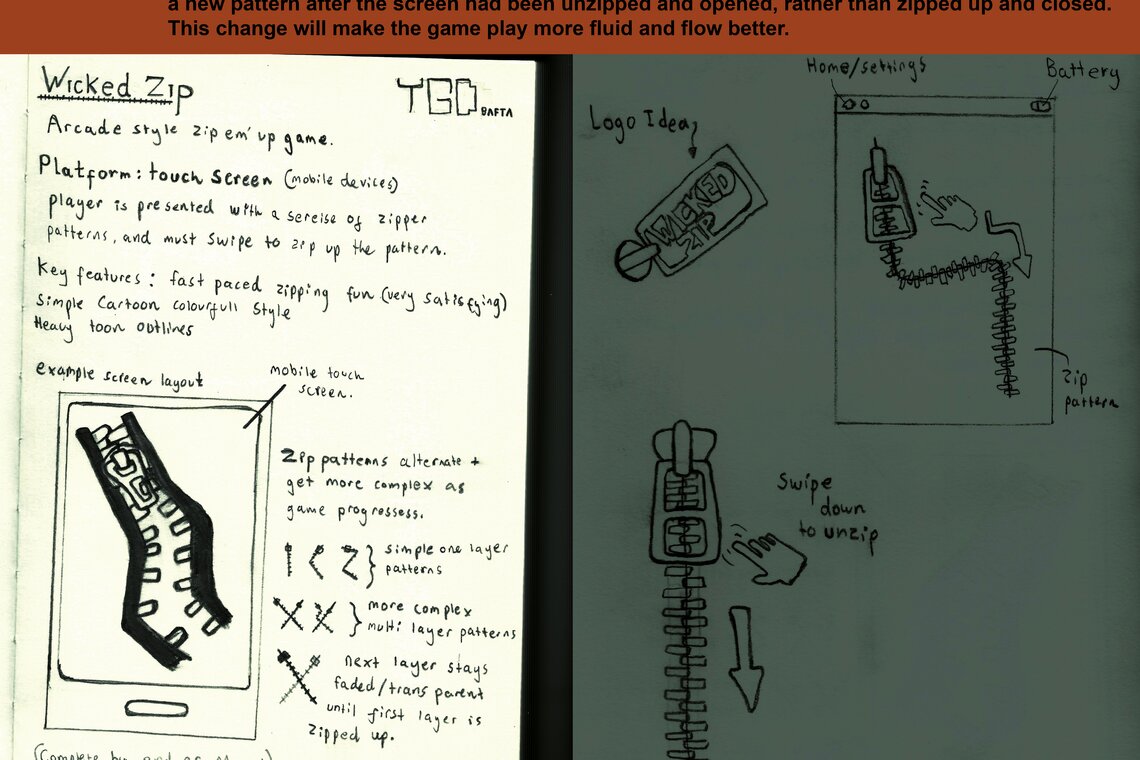 On the hardest difficulty, instead of having 3 seconds to unzip just one pattern, there may be 2 or 3 patterns that must be unzipped in the same amount of time. This will be shown by having the patterns on the screen at once. The top pattern will be fully visible, and the other patterns being slightly faded, coming into full view when the pattern above is completed.
Controls
Wicked Zip's controls are very simple, as it will be played on a touch screen device. To unzip a pattern, the player must hold their finger on the zip slider, and swipe their finger along the zipper pattern until it has been unzipped. To navigate through the menu screen, the player must simply tap on the option they desire.