Kyle Randall
About
At the start you choose between a Seagull and a Pigeon. Then you pick a place such as a beach or a park to fly around observing what is below. You zoom in on people and objects and get the option to SPLAT the person or to GRAB the object or food earning points as you go. If you succeed in grabbing the object or food, you must return it to your nest. As you complete levels and collect objects, you collect more coloured feathers that help you escape birds of prey. In the mini-games, you have an amount of time to GRAB as many objects as possible or to SPLAT as many people as possible, these points can be used to buy items to customise your bird.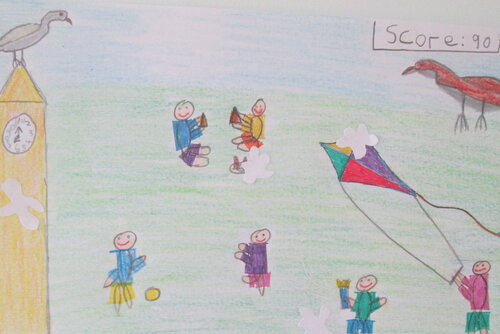 Environment
A beautiful golden beach, lots of happy people enjoying the sunshine.
A city scene, lots of people in smart work clothes, tourists taking pictures of the sites.
A park, kids playing on the swings and slides, families enjoying a picnic together.
Rows of back gardens with the same features, green lawns, sheds and washing lines.
Characters
A Seagull or a Pigeon are the main characters. Other characters in the game you interact with during gameplay include Falcons and People. You are given the option to customise your bird with hats, claw colours, wing patterns, eye colour and other accessories that make your bird the highlight of the sky.
Controls
This game is compatible on consoles, mobiles and tablets.  On mobile and tablets the controls are the touch screen and the motion controls will determine the direction the bird flies. For a platform the normal basic controls apply. Throughout the game there is a radar in the bottom left corner of the screen indicating certain objects of interest for players.