Declan Metcalfe
About
Plate Defenders is a birds-eye view strategy game based around two factions of the germ nation; The Attackers (your enemy) and The Cleanse Corps Organization (whom you play as). The objective of the game is to defend the clean germ free plate from the Attackers.
Environments
Set in a modern kitchen, the battlefield is a breakfast bar... There are many different levels each becoming harder as you progress; the levels are all different breakfast bars. An easy level is a long breakfast bar with lots of different obstacles that the germs have to navigate around, meaning a larger distance for them to travel to get to the plate.  The longer it takes the more time the player has to kill them.  A later level would be a short breakfast bar with very few or no obstacles, this would decrease the distance between the germs and the plate meaning you have little time to set a defence up and kill the germs.  No obstacles mean that the germs have an easy sprint to the plate.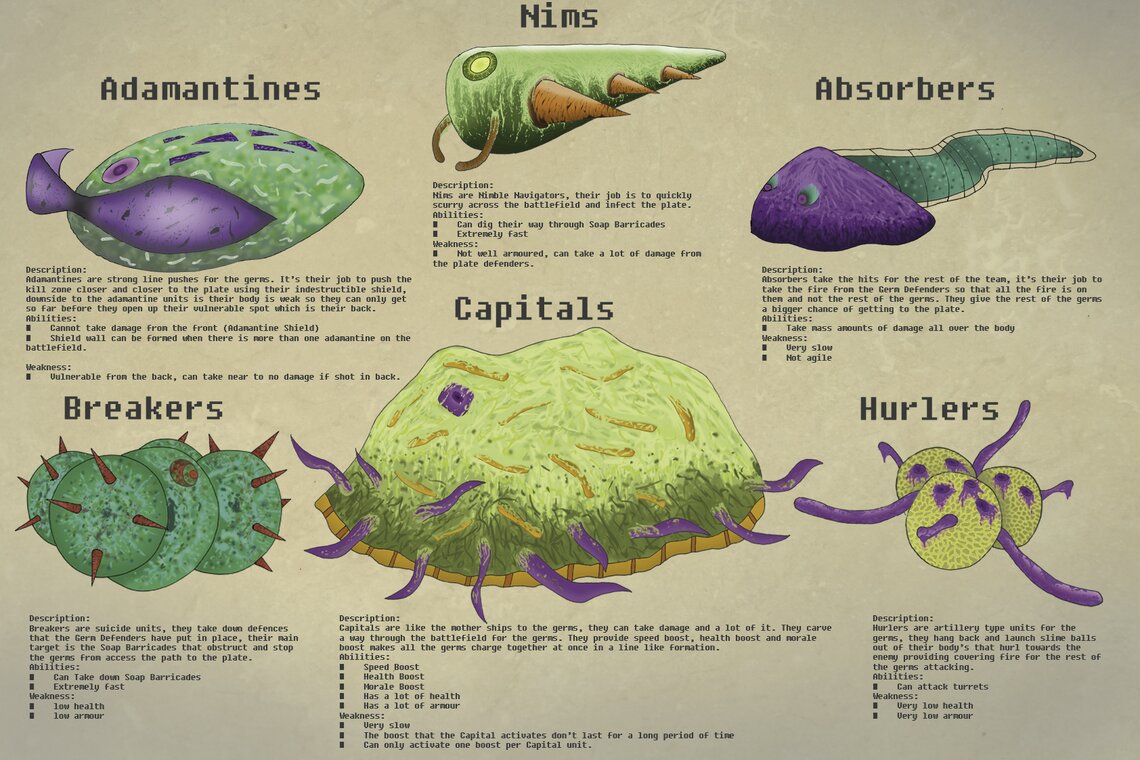 Controls
My game is played on a mobile phone using your fingers.  The controls are simple all you have to do to play is tap, drag and drop.  You drag and drop where you want your turrets to be placed, you tap on the turret you want from a side bar on the screen and then drag it to the place you want it to be in. You hold and pull using your finger to look around the map (breakfast bar) you zoom in and out using your thumb and finger.  If you want to upgrade a turret you tap on it and two small options would appear 'sell' and 'upgrade' choose upgrade and you now have a washing up liquid shooter.